MOSAiC scientists start to move equipment as an Arctic storm descends. Credit: Esther Horvath/Alfred Wegener Institute
Arctic storms are one type of natural event that can affect sea ice. Unlike mid-latitude cyclones, Arctic storms do not typically carry a lot of snow and rain. They can, however, bring extremely strong winds, which can rip through the sea ice, causing it to break apart, explains Dr Ola Persson, a polar meteorologist from the National Oceanic and Atmospheric Administration (NOAA) taking part in MOSAiC. He says:
"What people have been noticing in the past few years is that when we have a really big Arctic cyclone, the sea ice disappears."
In 2012, Arctic summer sea ice reached its lowest level on record – in part due to a large storm hitting the ice in August.
A landmark report on oceans and ice published this year by the Intergovernmental Panel on Climate Change (IPCC) found that up to half of the observed decline in summer sea ice could be down to natural variability in the Arctic climate.
"There are challenges for pinning down a date for the first ice-free summer just because there is internal natural variability in the system – that means that will always be uncertainty," says Holland.
A study published in 2016 calculated that natural variability in the Arctic system amounted to around two decades of uncertainty. This means that any ice-free summer forecast may need to have a 20-year window, just to account for the influence of natural events and processes.
The field measurements taken during MOSAiC are likely to improve the ability of climate models to forecast changes in the Arctic – but this could take some time, says Prof Jari Haapala, a MOSAiC scientist who is head of the Marine Research Unit at the Finnish Meteorological Institute.
"If I'm being realistic, it will take at least five years for the new results from MOSAiC to be implemented in the climate models. It could probably take longer."
This is because all the field results from MOSAiC will first need to be analysed, then published in peer-reviewed scientific journals – and then relayed to the climate modelling community, says Haapala.
A major concern is that Arctic sea ice is shifting so rapidly that climate modellers may not be able to keep up with the pace of change, says Rackow:
"We're running out of time. If an ice-free summer does occur at the earliest forecasted date – around 2035 – then that's not much time left. It could be that reality overtakes our ability to make predictions."
Ice-free implications
The point at which the Arctic sees its first ice-free summer will have repercussions both in the polar region and beyond.
One industry that has followed sea-ice forecasting research with keen interest is commercial shipping. Ever since humans first started navigating the seas, international traders have sought the most cost-effective route between the world's ports. For many, the shortest route between the Atlantic and Pacific Oceans would be through the Arctic – but the presence of thick sea ice has prevented passage for all but the hardiest ships.
The disappearance of sea ice in the summer would allow ships to find a new, faster route between the Atlantic and Pacific Oceans. A study published in 2016 found that routes across the Arctic could become available for standard open-water vessels by the middle of the century. "I think the Arctic will look very different [at that time] and will have a lot more activities and resources being exploited. That's probably coming," says Rackow.
The opening up of new shipping routes could bring increased threats to the Arctic's unique wildlife. A study published in 2018 found that the expansion of commercial shipping poses a significant threat to a wide range of Arctic marine mammals, including narwhals, bowhead whales, belugas and polar bears.
Narwhal whale in Arctic Bay, Nunavut, Canada. Credit: Todd Mintz / Alamy Stock Photo.
Animals in the Arctic are likely to face further threats as sea ice disappears, says Dr Allison Fong, co-coordinator of the ecosystems research team for MOSAiC from AWI. She tells Carbon Brief:
"Without the persistence of sea ice through the summer, there could be really strong implications for biota [wildlife] that utilise ice as a habitat. Ice is also an environment that carries organisms from other parts of the Arctic to the central Arctic – so this could have implications for what seeding populations are there during the growing season."
These changes could impact every level of the Arctic ecosystem, says Fong, from the plant algae growing on the underside of the sea ice to the polar bear, the region's top predator.
A study published in 2018 found that sea ice decline could be making it harder for polar bears to find food. The preferred prey of polar bears is the ringed seal, which the bears hunt from the ice surface. The study tracked a group of female bears living in the Beaufort Sea in 2014-16 and found that, on average, bears were travelling further to find food than in previous years – and expending more energy in the process.
Though a clear link has yet to be established, it is possible that the reason bears are travelling longer distances is because declining sea ice is leaving them with fewer places to hunt seals, Dr Anthony Pagano, a research follow at the Institute for Conservation Research at San Diego Zoo, told Carbon Brief in 2018: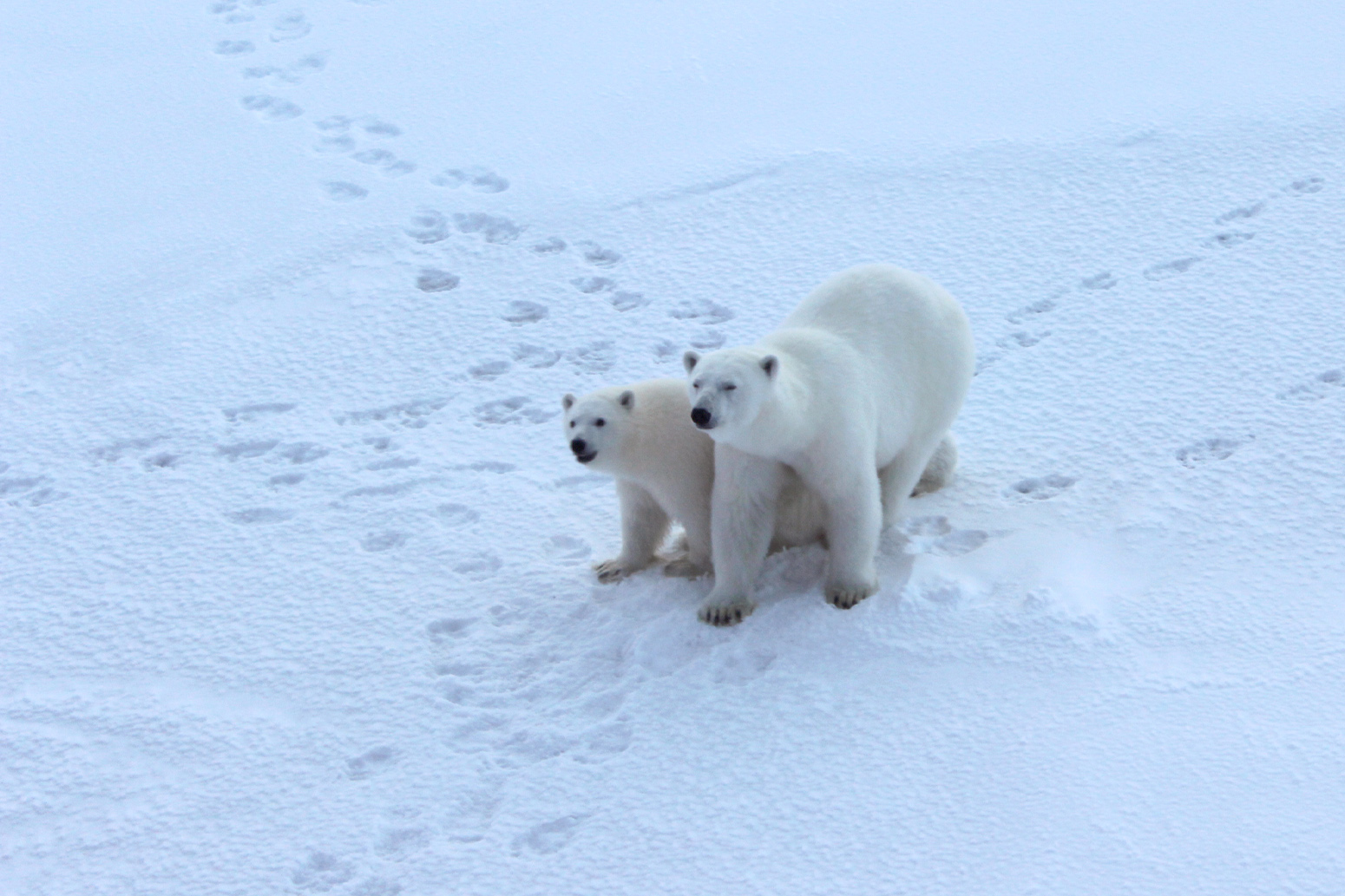 A mother polar bear and her cub in the Central Arctic Ocean. Credit: Daisy Dunne for Carbon Brief
"The concern is that as the ice breaks up earlier each year, the bears will be impacted in three ways: they'll be less successful at catching seals because they're being displaced from their primary foraging habitat earlier; they're putting on less weight than they would have done historically; and then they're also moving greater distances. If that trend continues, we would expect continued declines in reproductive success."
A second study published this year found that polar bears may tune their foraging behaviour to be in line with the pattern of ice growth and retreat seen each year. This "implies that even minor advances in the timing of [ice] break‐up may have detrimental effects on foraging opportunities, body condition, and subsequent reproduction and survival," the authors say.
Changes to ice conditions affect indigenous human populations, too, says Holland. "It also has implications for people that use the ice for travelling or for hunting because young ice is not as stable or as safe," she says.
People living in lower-latitude regions could also be affected, though less directly, by sea ice decline. A growing field of research suggests that changes to sea ice could be affecting weather elsewhere, particularly in mid-latitude regions.
Inupiaq hunters look out over the Chukchi Sea, Barrow, Alaska. Credit: Design Pics Inc / Alamy Stock Photo.
"What happens in the Arctic doesn't stay in the Arctic," Tsamados says. "The general circulation of the ocean, weather patterns in the lower latitude – these are things that are intimately linked with the Arctic."
Scientists have noted that the recent rapid changes in the Arctic seem to have coincided with a period of more frequent extreme weather events across the northern hemisphere. Such events include severe winters in the US, Canada and Europe, as well as heatwaves and droughts.
Some scientists believe that the two phenomena are linked. Exactly how changes in the Arctic could be driving increases in extreme weather events in the mid-latitudes is still up for debate. (Carbon Brief this year published a detailed explainer examining the proposed mechanisms.)
Research published in 2014 found that Arctic sea ice decline could have caused a doubling in the likelihood of extreme cold winters in Eurasia. A later study found that Arctic warming could also be linked to more intense heatwaves in the northern hemisphere.
However, a study published this year found that Arctic sea ice changes could have a "minimal influence" on severe winters in the mid-latitudes.
Using climate models, the researchers found that declines in sea ice do not always precede cold winters. In their model simulations, the researchers instead observed that the two events often happened at the same time – suggesting that they may have a common cause, Dr Russell Blackport, a research fellow at the University of Exeter, said at the time of the paper's release. "The correlation between reduced sea ice and cold winters does not mean one is causing the other."
More research will be needed to understand the true impacts of dramatic Arctic decline – both in the region and beyond, says Fong:
"We need a lot of data, over many years – successive years – to actually identify what the impacts of [sea ice decline] will be. These are concentrations of CO2 that have never been seen in modern history. It's clear that there will be implications but, what those implications are, it's hard to say."
---
Daisy Dunne was one of five journalists selected to report on MOSAiC. Her costs once leaving Tromso were covered by the Alfred Wegener Institute, which organised the expedition.

Satellite imagery credit: NASA's Scientific Visualization Studio